There isn't a week that goes by where ransomware attacks aren't in the news one way or another. A recent survey showed that only three out of ten businesses and slightly fewer for charities have a business continuity plan that covers Cyber Security, but just what is the cost of ransomware attacks and more importantly why should you protect your data?
As the COVID-19 pandemic ravaged the world in 2020, ransomware attacked also grew to epidemic proportions of their own. Almost every day, both large and small companies across every industry — all lacking ransomware protection — were attacked. Now with incidents on the rise, organizations are rushing to implement data protection strategies to reduce their exposure.
But, while everyone can agree that ransomware is a major threat, what are the actual costs that come with a ransomware attack? And, more importantly, what can you do to defend yourself from them?
What is Ransomware?
Ransomware is malicious software (malware) used in a cyberattack to encrypt a victim's data with a key known only to the attacker, rendering the data unusable until a ransom payment (usually cryptocurrency like Bitcoin) is paid by the victim. Ransomware activity has become pervasive, impacting 50% of organizations in 2020.2
Recently, however, ransomware incidents have become even more insidious. In the past, attackers would simply force companies to pay a ransom to unlock data. Today, 70% of occurrences employ double extortion tactics, where attackers exfiltrate and steal sensitive company information to coerce companies to pay even more.3 If payment isn't made, the attackers leak the data onto the dark web.
The real costs of ransomware attacks
Ransomware has many costs, from the ransom amount to the costs of recovering from the occurrence to the damage to your organisation's brand. All of the costs add up to significant amounts and can take a major toll on your business.
Ransom costs
2020 was a very good year for ransomware attackers. The number of companies willing to pay increased, as did the size of the pay-outs.
The most alarming statistic is that 91% of cyber attacks start with an email. Ransomware still being the most often spread through phishing emails.  A recent survey found that 𝟰𝟯% 𝗼𝗳 𝗰𝘆𝗯𝗲𝗿-𝗮𝘁𝘁𝗮𝗰𝗸𝘀 𝘁𝗮𝗿𝗴𝗲𝘁 𝗦𝗺𝗮𝗹𝗹 𝗮𝗻𝗱 𝗠𝗲𝗱𝗶𝘂𝗺 𝗕𝘂𝘀𝗶𝗻𝗲𝘀𝘀'𝘀 are vulnerable to a Ransomware attack.

That's we have launched our 10 steps to increase vigilance and help you protect your business from Ransomware through a combination of protective methods and tell-tale signs. Plug into our social for one step a day, and following the end of all the steps you can download our 10 step survival guide for free, including our FREE downloadable guide to: 13 email threat types to know about right now.
Why not talk with our Security Experts today and arrange a FREE no obligation Threat Analyser, where we will tell you which of the threats you are secured against, which types you are vulnerable to and more importantly what you can do to close your security gaps and eliminate your vulnerabilities.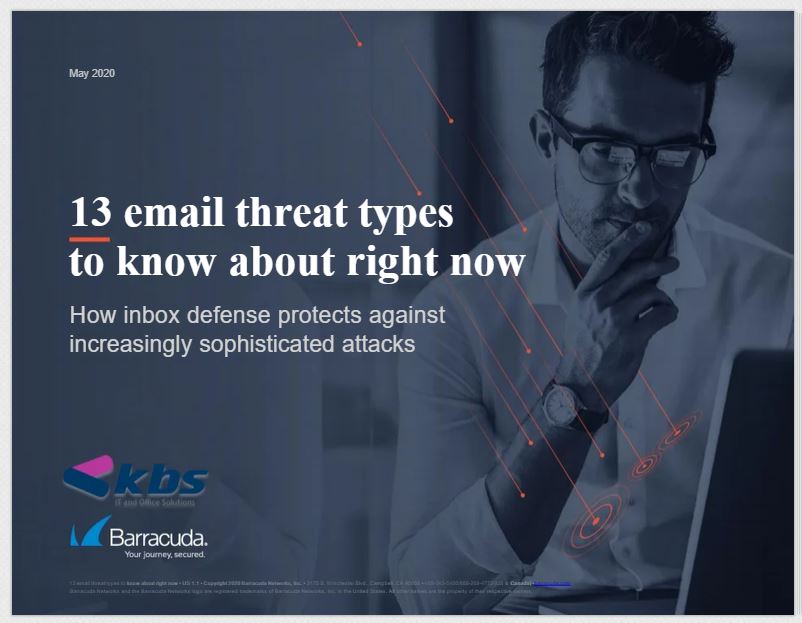 Download our Free guide to: 13 email threat types to know about right now.
Latest News