What's New: Chat & Collaboration
Use priority notifications to make sure your most critical messages are addressed
Imagine a critical, time-sensitive situation at work—from needing a hospital patient's medical history, to needing a quick price check on an item in the warehouse. With priority notifications you can send someone an urgent message on their mobile and desktop devices. This means that the recipient will be notified of the message every two minutes for up to 20 minutes, so you are more likely to get the response you need, quickly.
For a limited time, unlimited priority notifications in Microsoft Teams will be made available for all customers. This promotion will run from July 2019 to December 31, 2019. During this time, all Teams users will be able to send unlimited priority notifications.
Get someone's attention with @-less mentions
Hey you! Sometimes we need to call out our teammates by name, to alert them to important information, to ask them a question, or to give them recognition. Now you can simply start typing a person's name (starting with a capital letter) and select the right contact form the list of suggestions to tag them by name. They will receive a notification, which they can click to go directly to the point in the conversation where they were mentioned.

https://techcommunity.microsoft.com/t5/Microsoft-Teams-Blog/What-s-New-in-Microsoft-Teams-July-2019/ba-p/779946
Keep conversations focused with channel moderation
Channel moderation gives team owners and members who have been added as moderators, exclusive rights to create new posts in the channel and control whether team members can reply. This is a great resource for when you need to ensure that conversations in a certain channel stay focused and on topic.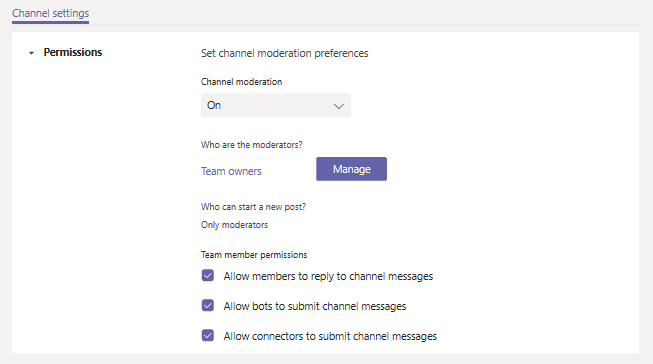 What's New: Meetings, Calling, & Live events
Use live captions to give subtitles to your Microsoft Teams live events and meetings
When hosting a meeting or event in Microsoft Teams, it is important to consider how all your audience members or participants will be consuming it. Now in preview, live captions & subtitles allow attendees to read speaker captions in real-time—helping to improve the accessibility and effectiveness of meetings (private preview) and live events (public preview). This is a game changing feature for those who are deaf or hard of hearing, have different levels of language proficiency, or are connecting from a loud location.
Captions and subtitles in live events supports more than 50 languages, so participants can easily select the one that optimizes their experience. Today in private preview, meetings support live captions in English, with more languages coming soon!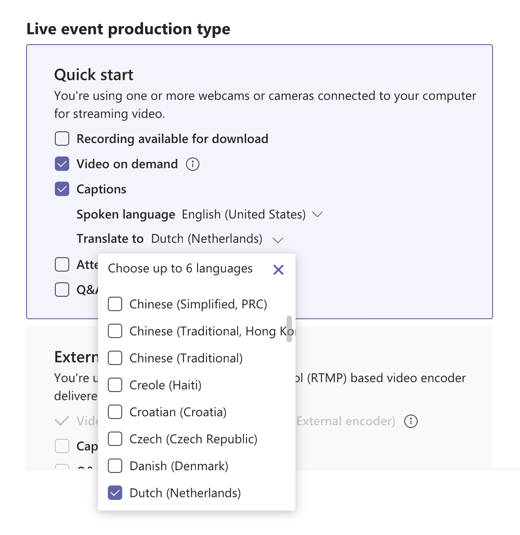 Discover usage trends with live events usage reports
Easy access to data and reporting makes it much easier to optimize for future events. Now, admins can easily identify trends across the organization including usage information, event status, views, and who in your organization schedules, presents and produces live events.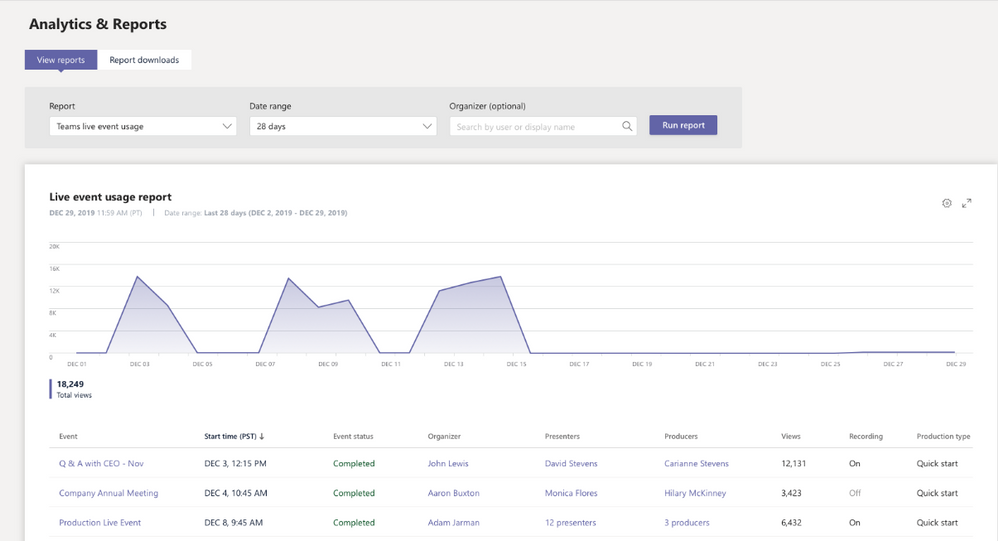 Updates to Microsoft Teams Rooms to make your meetings experiences even better
In the month of July, the Microsoft Teams Room (MTR) app update 4.0.105.0 was rolled out via the Windows store. This app update included various client and service features for Microsoft Teams Rooms devices. This included a rebrand of the app from "Skype Room System V2" to "Microsoft Teams Room", UI updates that make the Microsoft Teams Room app experience more similar to using your desktop and mobile clients, updated themes and imagery to the front of room displays, the addition of meeting controls on the MTR device, and the ability to rate call quality on the MTR device.
There was also the highly anticipated update that allows the use of Microsoft Whiteboard in Microsoft Teams Rooms. This means that when your room has a touch enabled device, you can have real-time whiteboarding sessions with remote participants!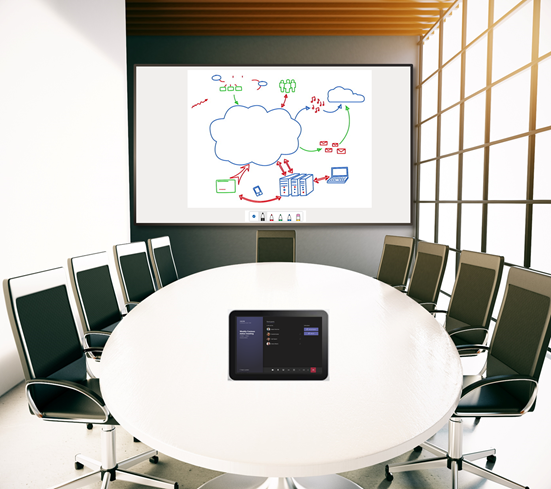 Skype for Business Online will be retired on July 31, 2021
We have announced that Skype for Business Online will be retired on July 31, 2021 , and after that date the service will no longer be accessible. Please note that the Skype Consumer service and Skype for Business Server will both be unaffected by this announcement. Since launching Microsoft Teams in 2017 we have added to and refined the service as to be able to confidently recommend it as an upgrade to all Skype for Business Online customers. Customers who have already made the move tell us that Teams not only has helped them improve collaboration generally, it has also provided a rare opportunity to rethink the way work gets done in their organization. Learn more about the Skype for Business
What's New: Teams Admins
Prepare your network with Network Planner (Preview)
We know that admins want to ensure that their network is ready to deliver the best Teams experience to their users. The Network Planner, found in the Microsoft Teams Admin Center, calculates your network requirements for deploying Teams and cloud voice across your organization's physical locations. You only need to provide your network details and Teams usage. This feature launched in preview on July 1st.
What's New: Teams for Firstline Workers
Clock in and out of work with time clock in Teams Shifts
The new time clock feature in the Teams Shifts module allows workers to clock in and out of their work shifts and breaks right from their Teams mobile app. Managers have the option to geo-fence a location to ensure team members are at the designated worksite when clocking in or out.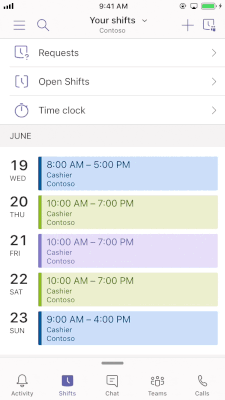 Try the new features and give us your feedback, or if your would like to know amore about how Microsoft Teams can help your business….